The holidays are a time of joy, bonding, and family. When that dynamic is shifting, when the family is breaking down, extra stress can be added on to what's supposed to be a joyous season. It is natural to want to move on as quickly as possible. You may consult a lawyer or divorce mediator Skokie immediately. However, divorces filed around the holidays often have more complications than if they were filed at any other time of year. If you're thinking about starting the divorce process or have already started it and find yourself in a holiday-related bind, there are several benefits to divorcing after the holidays are over.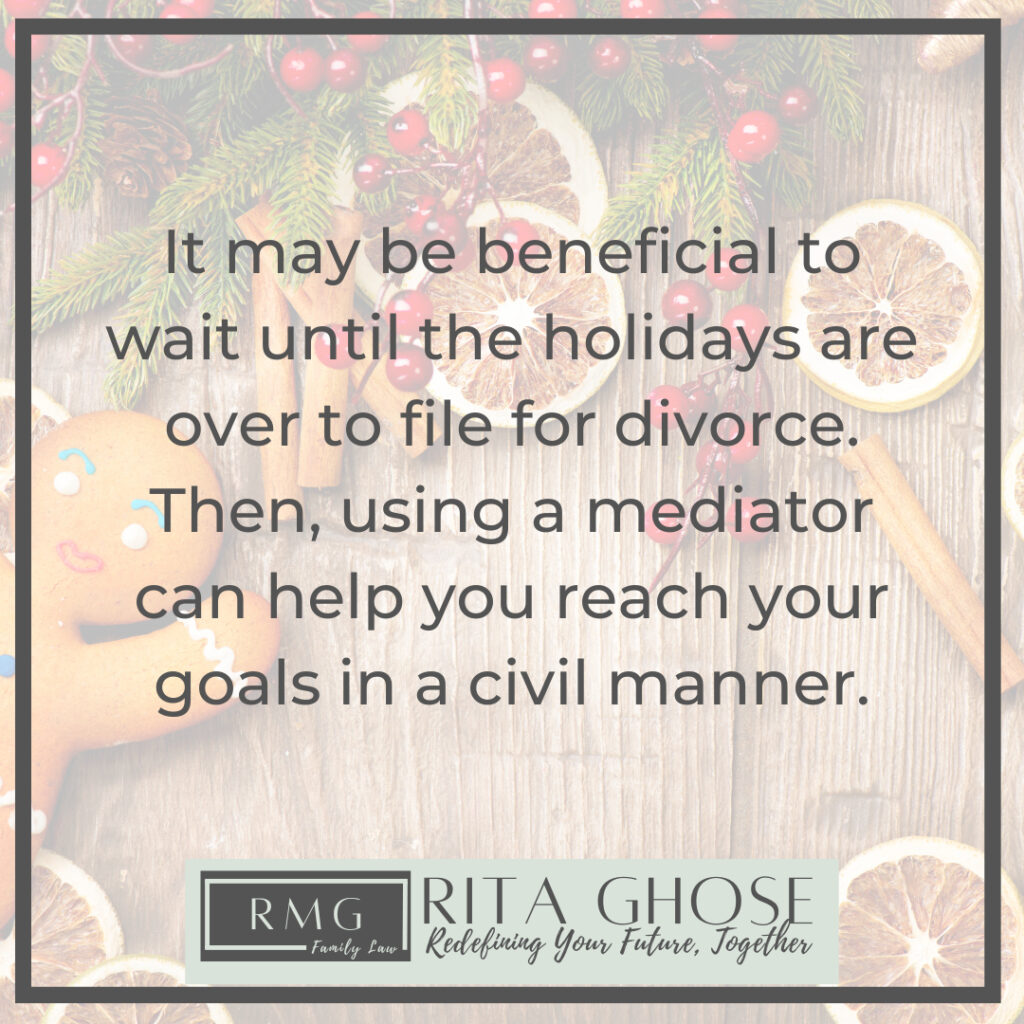 The holidays are often the worst time to initiate a divorce
The holiday season can bring about additional pressure. Your family has been celebrating together for years and has likely established some traditions. You likely feel obligated to celebrate together and make the holiday season a special occasion for your kids and family, despite the tension between you and your partner.
Although this can be a bit tense, it may be worse to have a major upheaval at this time. New living arrangements, new custody and visitation arrangements, and new financial situations may be difficult for your children to process during the holidays.
A major drawback to divorcing around the holidays is that everything takes longer than usual. You want to take a vacation, your lawyer may go on vacation, judges and clerks take vacations, so there may not be the people around when you need them. In addition, the courts and government buildings are closed more often this time of year, which also slows down the process.
If you need to divorce right away and cannot wait until the new year, our divorce mediator Skokie is here for you. Rita Ghose has vast experience helping families set goals for their future and work together to redefine their futures. Contact RMG Family Law today for a consultation.
Benefits to divorcing after the holidays are over
There are many benefits to divorcing after the holidays are over.
You will be able to enjoy your children's holiday activities without having to take into account your ex-spouse's plans or their parenting schedule.
You will have more time with friends and family members who may have been pulled away from you by a divorce during the busy holiday season.
You can avoid the stress of having to deal with tax issues that arise stemming from divorce.
Your children will be able to enjoy the season when you and your spouse put your differences aside and focus on them.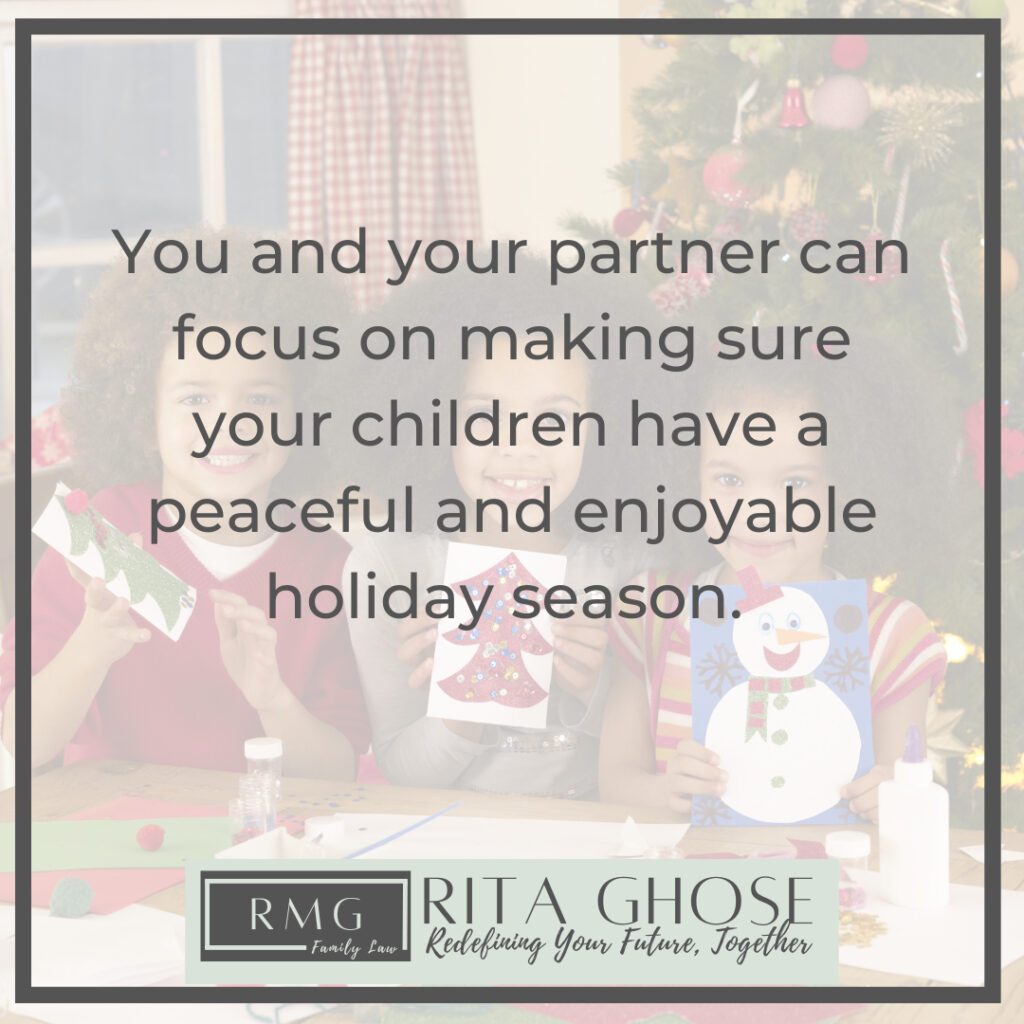 A successful holiday may alleviate some of the pain of the divorce
The holidays can be a time when you feel sad about the end of your marriage, but it's also a time to be with family and friends. You can keep busy by taking care of holiday errands, traveling home to see loved ones, or even starting something new in an effort to make yourself feel better. It is also time to reflect on the past and plan for the future. Having the experience of a joyful holiday season can help you make sure a new family dynamic isn't a negative experience for you or your children.
The holidays are traditionally a time spent with family and friends, providing support during and after a divorce. Family members can help you stay positive. They'll be there for you when you're feeling down, and they'll also be there to celebrate your successes as well. Friends tend to bring an outsider's perspective that helps you reflect on what has happened as well as what needs to happen next in order for life to get back on track.
Although there are benefits to staying together during the holidays, some couples just can't do it. You don't want things to be worse. And you don't want your children to suffer because you and your partner can't make it through a day without breaking down. If that is the case, it may be best to start the process as soon as possible. A divorce mediator Skokie, may be the best option to help you have a more peaceful divorce, so you can still enjoy the holidays. 
Divorce Mediation Skokie may be the best process
If you can wait and maintain a civil relationship with your partner through the holiday season, it may be best to wait to file for divorce. When you do, divorce mediation Skokie, may be the best process to ensure your goals are met and you're focused on your future.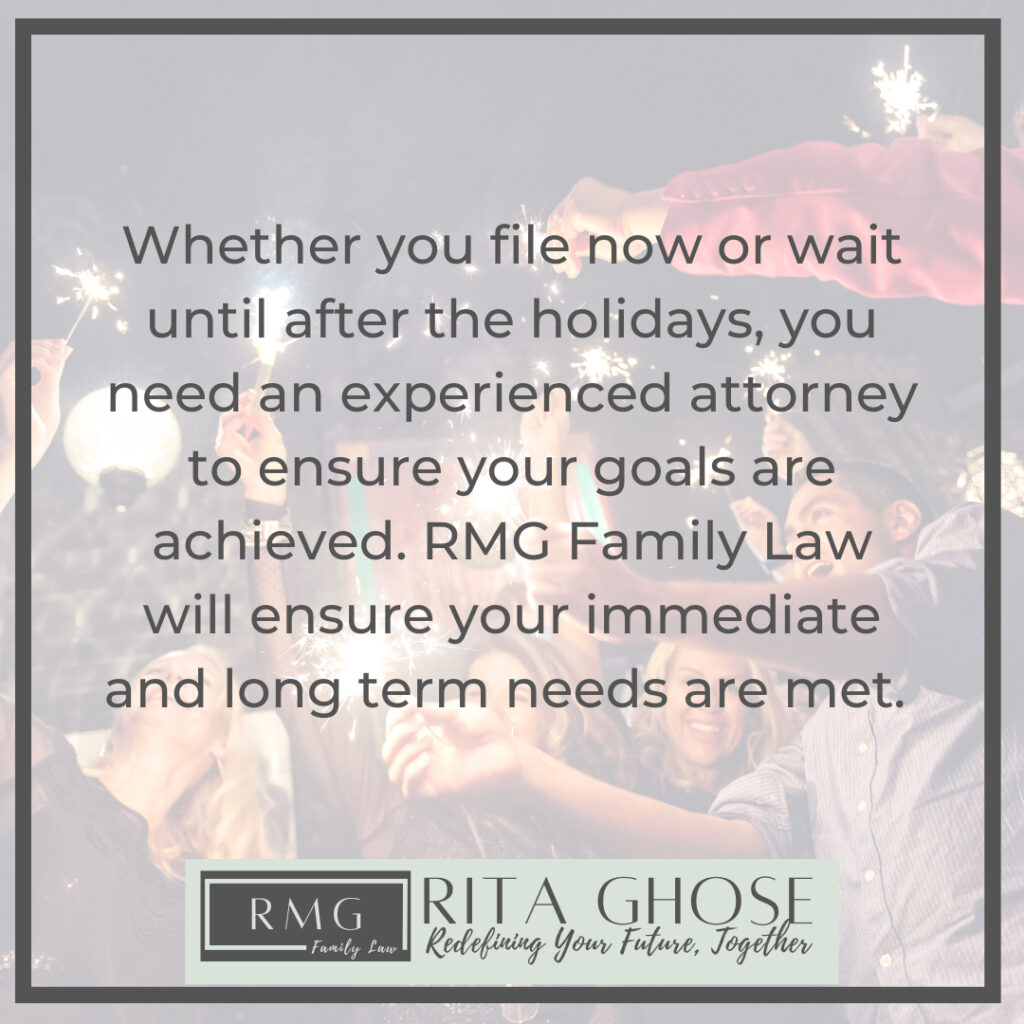 Mediation is a private process in which you and your spouse work with a neutral third party, the mediator, to come up with a plan for how to split assets, debts, parenting time/custody decisions, and other determination that must be made. The mediator helps guide the two parties through their discussions so that they can come to their own conclusions about how things should be handled. This gives both of you more control over the outcome of your case compared to going through court. You won't have judges making decisions for you based on what they think is best for everyone involved. Rather, you two can figure out between yourselves what works best for each situation.
If you want to pursue divorce mediation Skokie, contact RMG Family Law for a consultation. Rita Ghose is an experienced, certified mediator, who will ensure you are focused on the future and that you come to a reasonable resolution together.